MENTORING... THE CORE OF CHALLENGE
A critical and required component of the Mountaineer ChalleNGe program is the matching of each Cadet with a caring, responsible adult Mentor. This relationship begins in the Residential Phase and continues for a full year during the Post-Residential Phase of the program.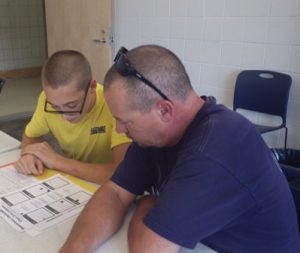 The progress of each graduate during the Post-Residential phase is documented in monthly reports by Mentors and submitted to the RPM Assistant at the beginning of each month.
WHAT IS A MENTOR?
The Mentor serves as a role model, friend and advocate to a Cadet during the residential and post-residential phase of the Program. The Cadet shares the responsibilities for the relationship with the Mentor and is accountable for progress toward his/her Life Plan.  A Mentor could be:
a teacher
a coach
a neighbor
a co-worker
a minister
The Mentor will help guide his or her Cadet through the transition from the Academy back into their home community and new life.  They will assist the Cadet with his or her Life Plan, their "road map" to their future placement. Successful placement means that a ChalleNGe graduate has entered or enlisted in the military, enrolled in school, higher education or training, or is employed in the job force.  The primary long-term outcome for a ChalleNGe program is defined as "successful placement at the end of the Post-Residential Phase."
A 1998 study on the ChalleNGe Program found that over ninety percent of youths who were doing well in the post-residential phase had active and successful Mentor relationships. Every successful person has had Mentors in his or her life.  What all of us have become is due, in part, to the Mentors in our lives.
Mentor Application [PDF file Free Adobe Download]