Academic Curriculum
The Cadet Services Coordinator is responsible for all academic courses of instruction, curriculum, class schedules, tests, progress reports, transcripts, graduation requirements, vocational/technical certifications, and supervision of the Counselors and Instructors.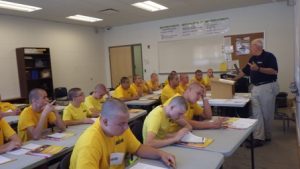 Classroom work will be evaluated by the Academy's state-certified teachers. Regular school report cards will not be used but instead Progress Reports will identify the Cadet's effort demonstrated in the classroom.
Progress Reports will be issued to both the Cadet and parents approximately every three weeks beginning Week 4. Cadets will be evaluated in a wide range of academic areas. This evaluation is used to assess their needs and develop an academic program providing them with the skills required to test for the High School Equivalency examination and Workplace Readiness examination.
High School Equivalency Examination testing is available to all Cadets who demonstrate effort in the classroom and is paid for by the Academy. Obtaining the High School Equivalency certificate is not required to graduate from the Academy.
ACT information will be available to Cadets interested in higher education.  For those interested Cadets, ACT tests will be scheduled by the Academy and transportation provided to the test site.