Bruceton Boys fundraiser collects nearly $50,000 Kathy Plum, The Dominion Post March 20, 2019 2:31 pm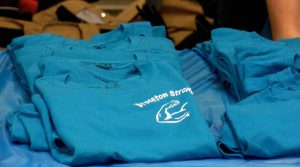 BRUCETON MILLS — A benefit Saturday for four Bruceton Mills boys involved in an auto accident raised $49,794 — and counting.
More than 1,000 meals were sold at the benefit, said Mandi Hall, one of the organizers of the Boys of Bruceton Benefit. And some people who came chose not to eat, so more than that attended.
More than 100 people of all ages volunteered to help with the event. They ranged from Preston County Senior Citizens members to Mountaineer ChalleNGe Academy Cadets.  "I can't tell you how many compliments we had on how respectful and how kind those kids were," Hall said Wednesday.  "They jumped right in, just anything that we needed them to do." The Cadets helped set up tables, direct parking and anything else that was needed. The seniors helped with food service and other chores. "It was just a huge community effort.  Just anybody jumped in and offered to help where it was needed," Hall said.
At the end of the day, as winning tickets were drawn for the more than 300 baskets and items donated, the tally raised was at $44,800. Master of ceremonies Wayne Conklin coached those remaining to donate, so that $45,000 was the total for the day.  Funds also were donated before and since the dinner, to the total of $49,794. The families of the students involved in the accident can submit medical bills to the group, and the bills will be paid directly.
Four Preston High students, all from the Bruceton area, were in a car that hit a tree after hydroplaning on W.Va. 26 at the intersection with Furfin Road on Feb. 6.  Brayden Bishoff, 15, died of his injuries. Another boy is in rehab in Georgia, and two boys have been released from the hospital.
Hall said the benefit was organized by local people. "If it wasn't for this amazing group, I don't know how this would have even come together," she said. The core group of organizers for Saturday's benefit were Leslie Mike Collins, Alysia Goodwin Funk, Mandi Hall, Kathy Kelly, Luciana Lowe, Ashley McCarty, Lori Morton-Smith, Stacy Snare, Anne Stammler and Stacy Zender.
Fundraising efforts for the families continue. An ATV poker run is planned April 6 beginning at The Tribute, 1661 Bolyard Road, Bruceton Mills. Registration will begin at 11 a.m. and the ride at 1 p.m. The cost is $10 per rider, and food will be provided at the end of the ride.